Welcome to Frassati Lunch Service.
Laura's Kitchen will offer lunch on Monday, Wednesday and Thursday. Student Clubs will provide lunch on Tuesday (Chick-fil-A) and Friday (Papa John's Pizza) as a fundraiser. This simple, easy-to-use, system allows for ordering 24 hours a day, 7 days a week. New meal calendars are published on-line each month. All meals will be offered at $6.50.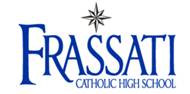 To order simply
sign-in
select the

menu

to order from
select the

meals

to order
select other menus/meals to order
check out...
Remember that Wednesday midnight is the weekly order cut-off, or by Friday midnight for a nominal charge.